Hi folks, looking for some wisdom from the many knowledgeable fabricators here. Any advice is greatly appreciated.
The tail panel on my 68 Dodge Coronet (one year only) has a lot of patchy rust damage across the bottom. Note that all the damage on mine is actually hidden by the bumper, so if a repair job isn't exactly perfect no one will know and I certainly won't mind.

For the low, low price of over $600 I can buy a 69 tail panel from AMD, and use the bottom half (that much is identical) to fix mine.
Full disclosure, not my idea, came from Motortrend.
Muscle Car Restorations repairs a rusted-out taillight panel on a 1968 Dodge Coronet.
www.motortrend.com

Most of the damage on my panel I could pretty easily repair (single bend) however there are a couple of areas like this one that form a "pocket" for structural strength that seem like they are going to be time consuming and aggravating to fabricate.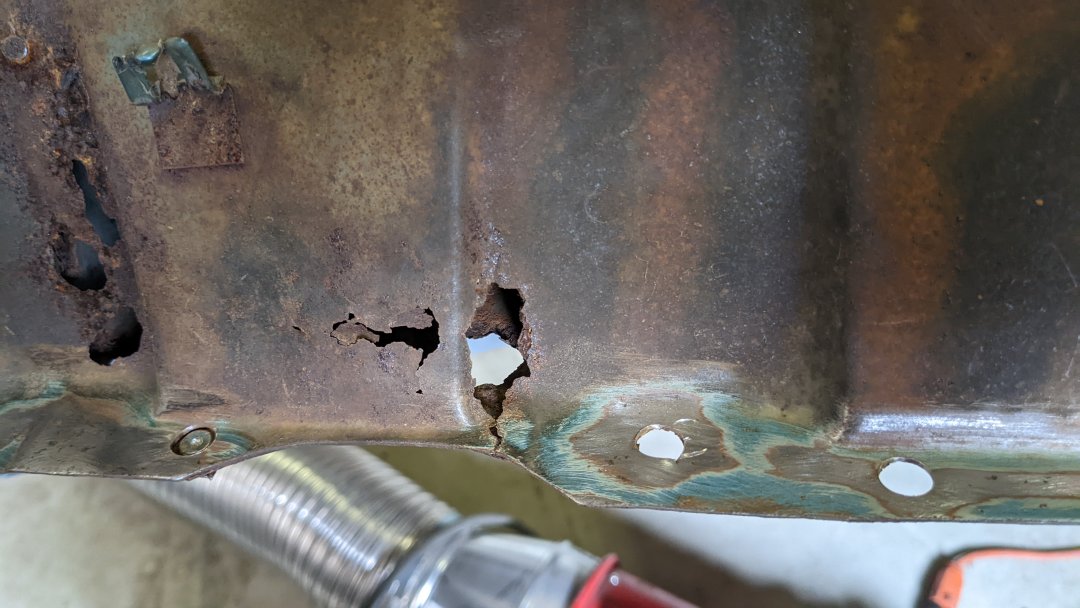 The only way I could come up with to fabricate these areas would be with a sheet metal brake to form the valley, then fold the bottom over and weld the corners closed (hope that makes sense). Would it be possible to create a hard wood form and hammer something like this?
I feel like I know the answer here (suck it up and spend the $600) but thought I would put it out here to see if there's a straight forward way to salvage what I have. I will say the idea of cobbling together 10 little patches isn't very appealing either (the article above shows what that could end up like).
Every dollar spent here comes out of budget for other goodies, but at the same time I'm starting to want to drive it more than I am wanting to work on it.
I'd really like to shoot a coat of SPI epoxy on it and drive it this summer if at all possible.
Thanks again for your time,
Robbie