Pretty happy to be making progress!
Got all the underside repairs done and then got it prepped and sprayed epoxy today.
All of us DYI guys who dream of painting our own cars have visions of laying down color and then clear like glass.
The truth is that is only 1% of the job. The rest is hours and hours of tedious prep; welding, grinding, sanding, and then doing it over.
But it is all joy! (Mostly)
I posted a previous thread about the metal work I had to do.
Here is a refresher on that (had about 8 spots like that to repair):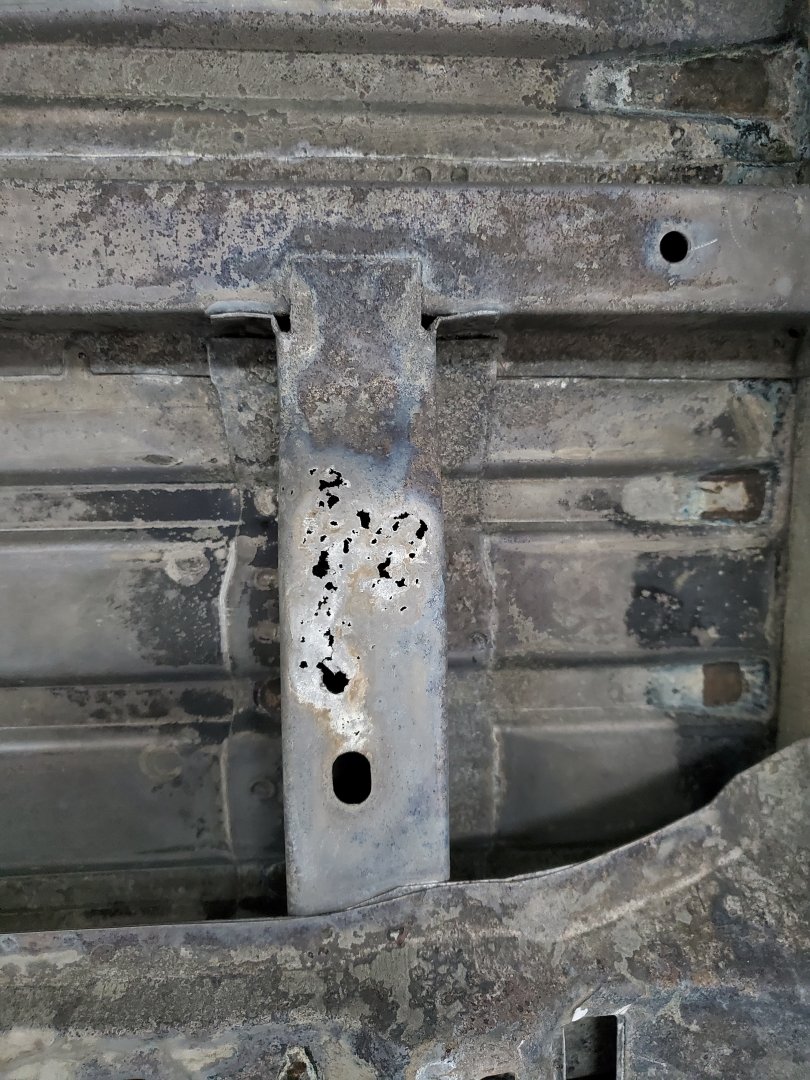 I got them done satisfactorily and then moved to spot welding in all the nuts for bucket seats and seat belts etc.
Then, grinding and sanding and grinding and sanding to get ready to shoot epoxy.
Here is what I started with: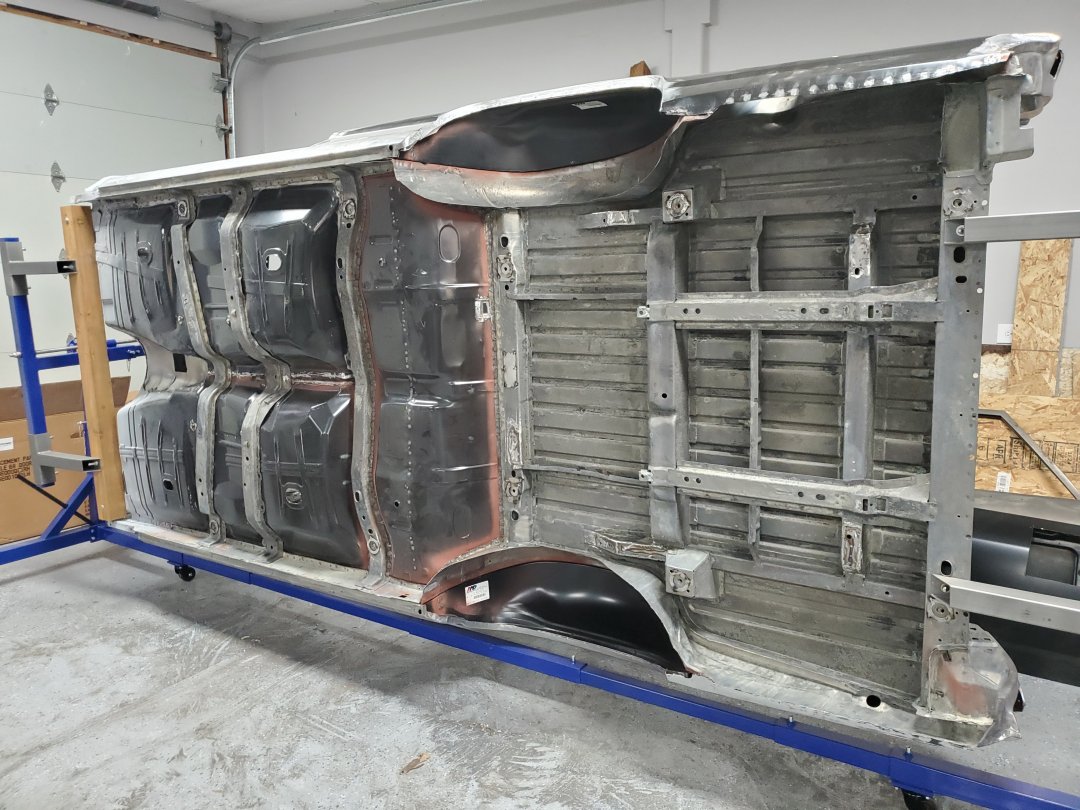 I started out determined to sand off all of the EDP from the replacement panels.
As you can see in the next picture, I got the belly pan done . . . it was really hard!
And then I asked myself "if this paint is stuck so well, why am I sanding it off?" I did the thinner test and no color came off, so I switched to just sanding the EDP with 180 really well.
The picture doesn't look bad, but as we all know, epoxy needs a good scratch to adhere to. Can you see how many nooks and crannies there are under the bed and supports? HOURS!!!
Also, you may notice the "doughnuts" spot welded on the body mount pads. Some had pin holes so I decided to put a patch on all of them. Can't hurt.
Here it is, prepped and ready to spray epoxy (everything really is sanded, just some shadowing in the picture):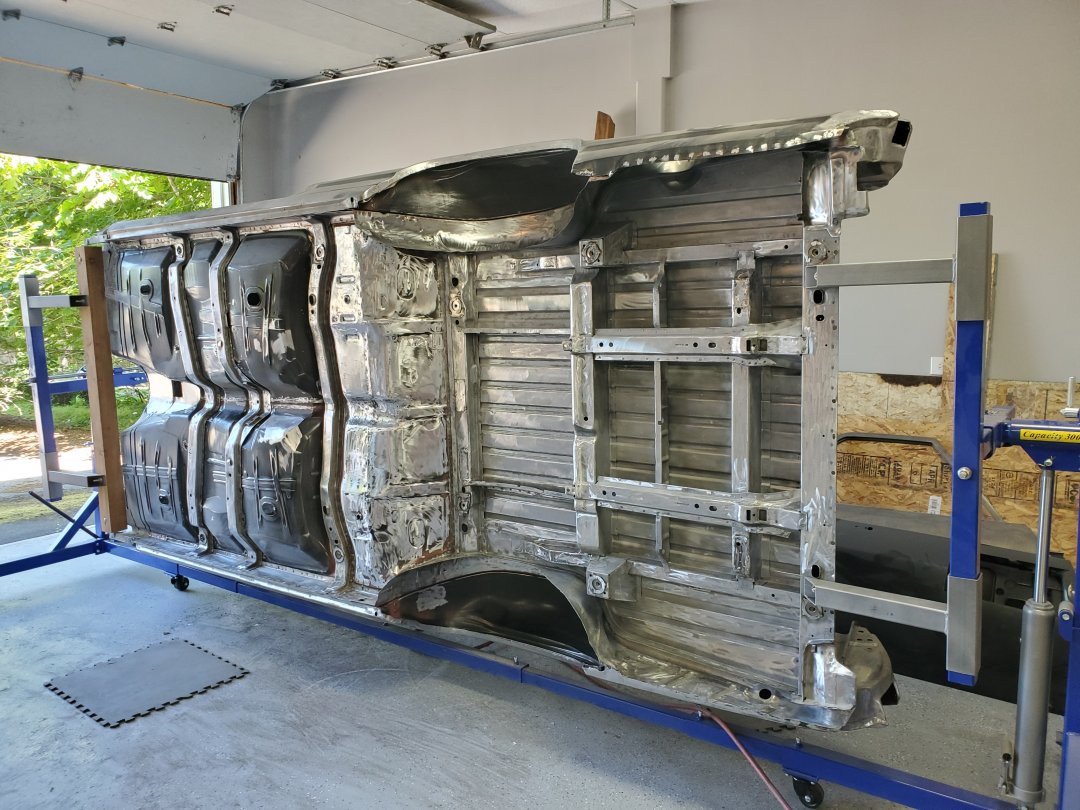 Oh, and here is my super cool "strip curtains" booth in place and ready:
And, it is epoxied. 2 really good coats.
Tomorrow I will do the inside of the cab and then this week will massively coat every joint with seam sealer and then shoot Raptor on the underside and the cab interior (most of it.)
Totally stoked with the progress!
And, the folks on this forum who encouraged me to get the rotisserie are my hero's! It made this whole phase way easier and more enjoyable. Each coat involved 4 rotations and it was super easy.